Cellulose Insulation
Blown-in cellulose insulation and it's benefits
Blown-In Cellulose Insulation in Wallington, New Jersey
We're All About Affordable Insulation
Arctic Blown-In Insulation Co in Wallington, NJ gives you quality insulation and service from consultation to completion. Our goal is to save you money by adding efficient blown-in cellulose insulation to your home or property so you use less energy.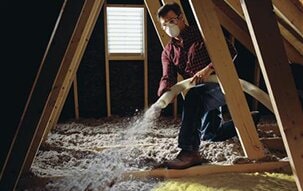 Blown-In Insulation
Typical wall and ceiling cavities are not uniform or even in size. Blown-in Insulation can fill in those odd-shaped spaces to ensure complete sealing in your home. This type of insulation is less likely to have gaps.
Blown-In or Dense Pack Cellulose
Cellulose is a top choice for contractors and homeowners because it is environmentally friendly, inexpensive, and green material that performs well. It is more resistant to airflow that fiberglass and does a better job at filling cavities. Cellulose can be installed in existing wall cavities through holes drilled in the wall..
Green fiber cellulose loose-fill insulation is specially designed to be pneumatically installed in attic floors, exterior walls, and garage ceilings to assist in controlling the high cost of heating and cooling, as well as aiding noise control.
Benefits of Cellulose Insulation